Chancellor of the Women's University in Africa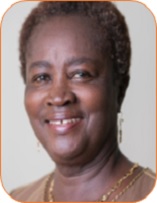 Currently Chancellor of the Women's University in Africa; Professor of Literature, School of Humanities and Legal Studies, University of Cape Coast (UCC); President and Africa Board Chair, Forum for African Women Educationalists (FAWE), Professor Naana Jane Opoku-Agyemang has been Minister for Education, Ghana; Vice Chancellor of the University of Cape Coast, the first woman to hold the position of Vice Chancellor in Ghana.
Professor Opoku-Agyemang holds a BA honours degree in French and English, a Diploma in Education from UCC; a Diplome Superieure D'Etudes Francaises from the University of Dakar, Senegal; an MA and PhD degrees from York University, Canada.
At the UCC she has been:
Hall Warden, where along with the students she fundraised to renovate the entire hall of residence,
Head of Department, English where she fundraised to retool the language laboratory, restructure the post graduate programs and introduce new ones,
Dean, Faculty of Arts where she stimulated the post graduate programs and deepen interrelations among the ten departments under the faculty while promoting staff development especially of women faculty,
Dean, Board of Graduate Studies where she revised the graduate brochure, streamlined the admission processes and introduced measures to speed up completion rates of graduate students.
Founding Dean, School of Graduate Studies and Research where she raised the status of the Board to a School to better focus on all aspects of graduate training and student/faculty research at the university
Vice Chancellor, where among many initiatives, she placed emphasis on scholarship; advanced the establishment of the medical school; initiated and completed many structures; expanded continuing education; established the law faculty and the fisheries college; enhanced the inter/national image of the institution
She has worked at the levels of policy and practice in education and has attracted extensive recognition at both national and international fronts. She is the recipient of many awards including the following: • Officer of the Order of the Volta, Ghana
Outstanding Contributions to Education in the Komenda Traditional Area
Outstanding Performance in Advancing International Education, School for International Training, USA
4 honorary doctoral degrees :
Doctor of Laws (LLD) Honoris Causa, University of the West Indies, Barbados
Doctor of Humane Letters (DLitt) Honoris Causa, Winston Salem State University, North Carolina, USA
Doctor of Humane Letters (DLitt) Honoris Causa, Grand Valley State University, Michigan, USA
Doctor of Letters, (DLitt) Honoris Causa, University of Cape Coast
Global Leadership Award, University of South Florida, USA
Al-Sumait Award in education, (on behalf of FAWE)
Outstanding Contribution to Education by the Africa Education Leadership Awards, Mauritius
She has served on many boards including the Center for Democratic Development-Ghana; Executive Board of UNESCO; Global Advisory Board of the Global Education Monitoring Report of UNESCO Global Advisory Council, World Learning Inc. USA; Editorial Board, The Harriet Tubman Series on the African Diaspora (Africa World Press Inc. USA); Africa Initiative, Canada; Adam Matthew Digital, UK.
Professor Opoku-Agyemang has published in areas of Literature by Women from Ghana; Oral Literature in Ghana and Africa; Communicative Skills and Issues in the African Diaspora. Her creative effort in literature has resulted in a five-volume collection of published folktales titled: Who Told the Most Incredible Story?
She is a two time Senior Fulbright Scholar; Fellow, Institute for Advanced Study and Research into the African Humanities, North Western University, Illinois, USA ; Fellow of the Ghana Academy of Arts and Sciences (GAAS) and a life Fellow of the Commonwealth of Learning (COL).
Professor Opoku-Agyemang is blessed with three adult children: Dr. Kweku Opoku-Agyemang, Dr. Kwabena Opoku-Agyemang, Dr. Maame Adwoa Opoku-Agyemang.and two adorable grandchildren, Nana Kwesi Esuman and Papa Kweku Agyei. Her hobbies include reading, listening to music and cooking.