Our Granting Process
The RUFORUM Secretariat mobilizes financial resources to fund the CGS. The RUFORUM Secretariat does not have sufficient funds to award many grants. The CGS is a very competitive program.
The Grants Unit periodically circulates calls for proposals targeting the member universities.
Faculty members with PhD qualifications and from RUFORUM full member universities are invited to submit proposals. If you already have an account in our online grants application system please log in here to submit your proposal online.
The RUFORUM CGS emphasizes participatory action research, linking faculty and students with rural communities, promoting inter-disciplinary research and encouraging multi-agency teams to create impact across the region. The CGS encourages students to work closely with rural communities and primary producers and others along the value chain, in partnership with other NARS stakeholders. RUFORUM is dedicated to continuing to emphasise participatory action research and development and a pluralistic and interdisciplinary approach to research and experiential learning.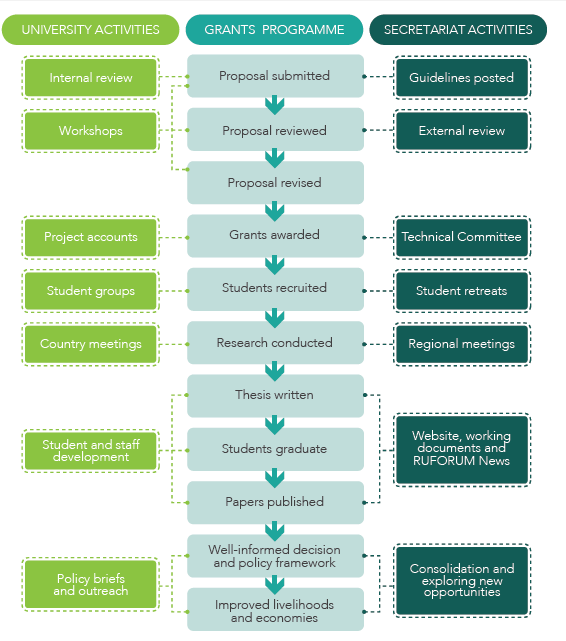 Applying for a Grant
The RUFORUM Information Management System (RIMS) is our online system accessible via the web. It enables prospective prospective Principal Investigators to apply for grants when there is an open call. It also enables current Principal Investigators report on the progress of their projects online. If you already have an account, please
log in here
to apply for a grant. If you would like to  apply for a grant online, and you don't already have an account, please
register here
to get one.
Useful Competitive Grants Resources
Grants Opportunities
Open Calls
RUFORUM Global Research Alliance Graduate Research Grants -- Call ID (RU/GRA-GRG /2020)
Download related call documents
Past Calls
Opportunities for funding through other research support programmes
Grants Awarded by RUFORUM
The RUFORUM Secretariat has funded over 300 impact oriented research grants since 1992. These grants have encouraged better university recognition of grassroots demands. Please visit the link below to view previously funded Graduate Research Grants, Community Action Research Projects, Institutional Strengthening Grants, Field Attachment Awards and Other types: