VC of Busitema University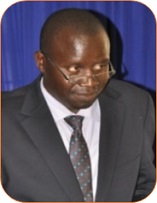 Professor Paul Waako is the second Vice Chancellor of Busitema University, a public University focusing on science and technology. Prior to this position, Professor Waako was the Founder Dean of the Faculty of Health Sciences, Busitema University, Uganda. He has vast academic experience having held various positions at Makerere University , Department of Pharmacology and Therapeutics rising to full Professor in 2012. He obtained his PhD in Clinical Pharmacology from the University of Cape Town, South Africa, Has been Senior Research Fellow at Queen Mary University, London and a Fellow of the Uganda National Academy of Sciences. He has previously served as consultant to several USAID-supported programs, member of the seven-man World Health Organization (WHO) - International Union of Basic and Clinical pharmacology (IUPHAR) joint task force for developing Clinical Pharmacology in Africa; Member of the task force for the establishment of Kabale University Medical School and has been Visiting Professor and External examiner at several Universities. He has served on several national and international technical committees. Professor Waako has managed over 10 International collaborative research projects mostly focusing on strengthening pharmaceutical systems and traditional medicines.
He has published extensively in the areas of traditional medicines, drug discovery and development, Rational use of medicines, and medicine supply systems with over 50 publications in peer reviewed Journals. He is co-Author of the book entitled "Plant-medicinal Dictionary for East Africa". Professor Waako spearheaded the development of an innovative health training curriculum at Busitema University Faculty of Health Sciences.
The training program provides for a vibrant Community Based Education Research and Service (COBERS) program with students undergoing community placement in hard to reach areas to prepare them to serve in areas where they are most needed. Professor Waako is married to Engineer Ziria Tibalwa Waako – An Electrical Engineer and they are blessed with five children. He enjoys current affairs and reading.