Former RUFORUM Board Chair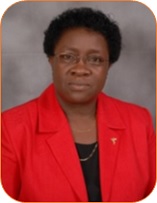 Prof. Mabel Imbuga is a Prof. of Biochemistry and the immediate past Vice Chancellor of Jomo Kenyatta University of Agriculture and Technology (JKUAT), a Public University in Kenya, well known for its leading role in Agriculture, Science, Technology and Innovation on the African Continent. She held this position for ten years. Prof Imbuga was the first female Vice Chancellor of JKUAT and the second Female Vice Chancellor in Kenya. She is involved in capacity building and held several positions both Nationally and Internationally, among them Chairperson Regional University Forum for Capacity Building in Agriculture (RUFORUM), Member of Pan African University Council, Board Member Kenya Agricultural and Livestock Research Organization (KALRO), Board member Federation of Kenya Employers (FKE), Board Member Kenya Private Sector Alliance (KEPSA), Co-Chair-The Committee on Data for Science and Technology- CODATA. Professor Imbuga has been a panelist for the Global Agenda – a TICAD VI side event by Japanese Broadcasting Corporation (NHK world), Chair of one session of the Africa Economic Platform in Mauritius, Former Chairperson of Inter University Council for Eastern Africa (IUCEA).
She is currently a member of Council Pan African University (PAU) initiated by The African Union Commission, Jury member L'Oreal –UNESCO for Women in Science (FWIS), and Board Member University of Namibia (UNAM) Prof Imbuga has been at the fore front of mentoring women in Science and Engineering, as well as advising and encouraging them in Academia. She is the founder and immediate past president of the African Women in Science and Engineering (AWSE), Former Director International Network of Women Engineers and Scientists (INWES) representing English Speaking Africa.
She is The Founder and was the First Chairperson of Forum for African Women Vice Chancellors (FAWoVC) a body that represents female Vice Chancellors of Universities in Africa. During her tenure as VC at JKUAT, Prof Imbuga successfully implemented a number of key projects, including strengthening the higher education stakeholder relations in Africa and the recent launch of Pan African University Institute of Basic Science Technology and Innovation (PAUSTI), housed in JKUAT, Kenyaand is supported by The Government of Kenya, The Government of Japan and The AUC, also implemented The EU funded – IMO-MTCC-AFRICA (Maritime technology Cooperation Center) hosted at JKUAT Mombasa Campus Kenya, and The SAJOREC (Sino Africa Joint Research Center) funded by The Chinese Academy of Sciences and The Government of Kenya. She is passionate about the implementation of the AGENDA 2063, STISA 2024, the SDGs, Our Kenyan Vision 2030 and the BIG FOUR AGENDA. Under her Leadership JKUAT established the first University driven computer Assemly Factory for both High Laptops called TAIFA and Tablets that were assembled, supplied and installed in Primary Schools in Kenya for The Digital Learning Program and those used during The National Census in Kenya