VC LUANAR and RUFORUM Board Chair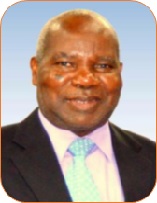 Professor George Yobe Kanyama-Phiri has Diploma, BS, MS and PhD certificates from Egerton University, Florida A&M University, University of California at Davis and Texas A&M University at College Station, Texas, respectively.  
Professor Kanyama-Phiri advanced to the grade of Full Professor of Crop Science in 2001. He has 32 articles in refereed journals, 20 in conference proceedings, 10 in research bulletins and 15 in technical bulletins. In addition, Professor Kanyama-Phiri has 3 book chapter contributions and 3 monographs.  He was awarded a Freshman Academic Scholarship Award and Alpha kappa MU Academic Honour in 1978. In the same year, he was included in the 44th Edition of who is who among Students in American Universities and Colleges for outstanding undergraduate performance.  In the year 2000 the International Biographical Centre, Cambridge,           England, included him among 2000 outstanding intellectuals of the 21st Century Order of Excellence for his outstanding contributions in the Field of Agronomy and Agro-forestry.  In the following year he was recognised by the American Biographical Institute as being among the great minds of the 21st Century. He is currently the Vice Chancellor of Lilongwe University of Agriculture and Natural Resources and Board Chairman for the Regional Universities Forum for Capacity Building in Agriculture (RUFORUM).