VC-University of Khartoum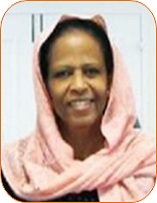 Prof. Fadwa Abdel Rahman Ali Taha is the current Vice Chancellor of University of Khartoum
Specialty: Historian of Modern and contemporary with many publications (books and articles)
Honors: Honorary Doctorate, University of Bergen, August 2004 (First Sudanese woman to receive an honorary doctorate from an international University.
Cultural Personality, 2017, Tayyib Salih Award, Zain Telcom (First Sudanese Woman to receive this award). 
First Sudanese Woman to be promoted to full professor in the schools and faculties of humanities, University of Khartoum. 
First Sudanese woman Vice-Chancellor, University of Khartoum